Data Cleansing and Data Validation Services
Validate emails, mobile or landline numbers in real-time using our data cleansing API.
Bulk clean batches of data easily via our website.
Use our database cleansing to validate mobile numbers from 26 countries and all UK landline numbers.
We also offer TPS & CTPS checking, HLR Lookup, Email Verification and Unsubscribe Management tools to ensure you're ICO compliant.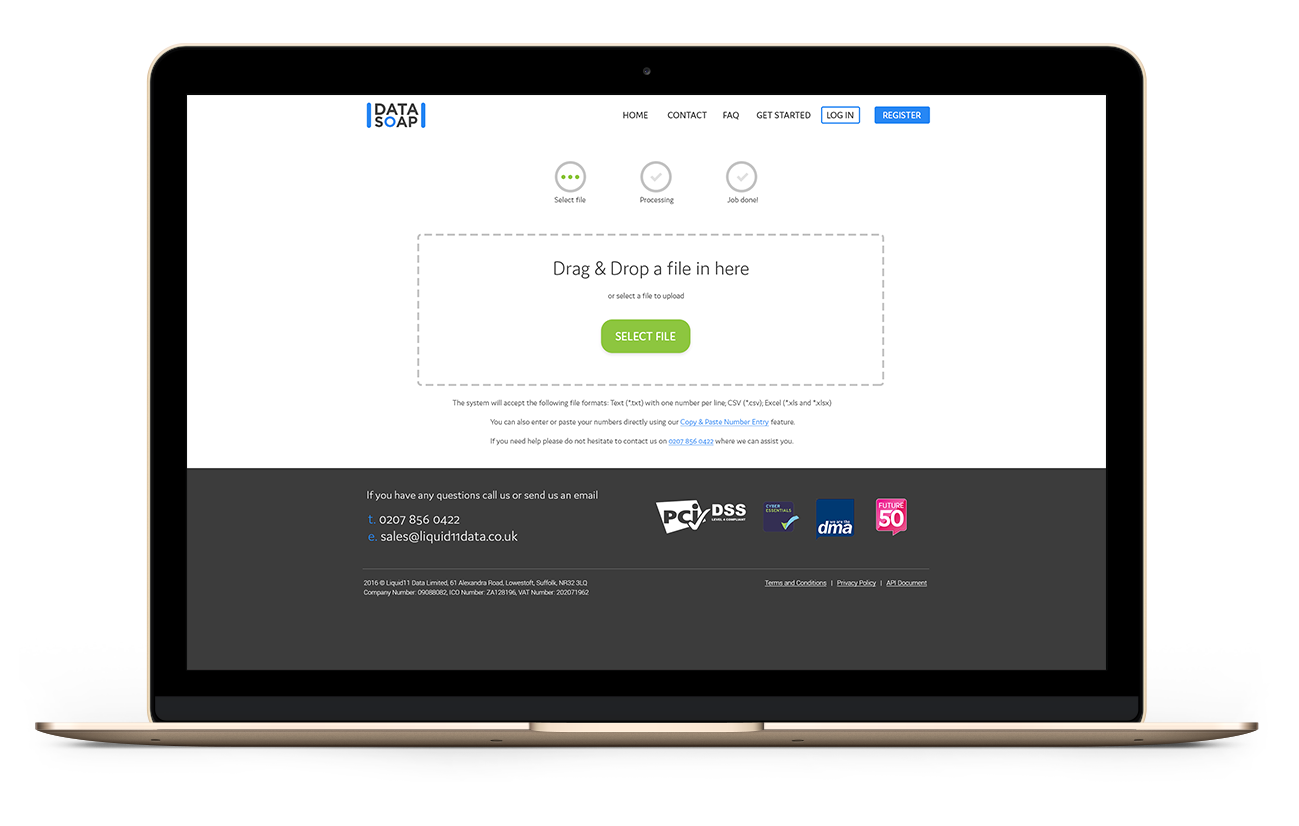 Data validation with our industry leading data cleansing tools
HLR Lookup
For all mobile numbers
Our HLR Check and Data Soap tool allows you to check if a mobile number is live, connected, switched on and what network it is assigned to.

Save your time and money by removing fake, incorrect or dead numbers from your marketing lists.
Landline Cleansing
For UK landlines only
Our landline number validation tool will identify which of your landline numbers are valid and contactable. Easily remove dead and invalid numbers.

Ensuring your landline numbers are valid will help your agents get more conversations and conversions.
Email Verification
For any email address
Use our Email verification tool to remove emails that are incorrectly formatted or undeliverable. Identify 'free' emails such as Yahoo! and Gmail.

Email validation will also highlight 'disposable' addresses that will become inactive after a short period of time.
TPS & CTPS Checker
For UK landlines or mobiles
Ensure your numbers aren't on the telephone preference service. Avoid a fine with our TPS checker and guarantee your numbers are legal to call.

Significantly reduce complaints with our DNC (Do Not Call) screen, included for free with our TPS checker service.
---
Why is database cleansing important?
Improve contact rates and increase conversions
Keep complaints to a minimum by avoiding people registered on the TPS
Reduce your risks, comply with ICO regulations and avoid fines
Save agent time and company money and make your call centre more efficient
Keep staff morale high by removing dead numbers and minimising complaints
Our tools will help you make more money and help to protect your company's reputation
Sign up now and get
100 free data cleansing credits
Sign Up