Fast, Accurate Data Cleansing & Validation
Quickly clean your customer data either directly from your website, or with our drag-and-drop portal.
Swiftly validate any type of phone number plus email & postal addresses directly from your leadgen pages or customer list.
Instantly screen numbers against the Telephone Preference Service (TPS & CTPS) register before you call them.
Easily manage opt-out lists (Do Not Call) from our automated portal.
Save money once you're squeaky clean by using our new SMS system. Create campaigns & send or schedule your texts with ease, straight from your Data Soap account.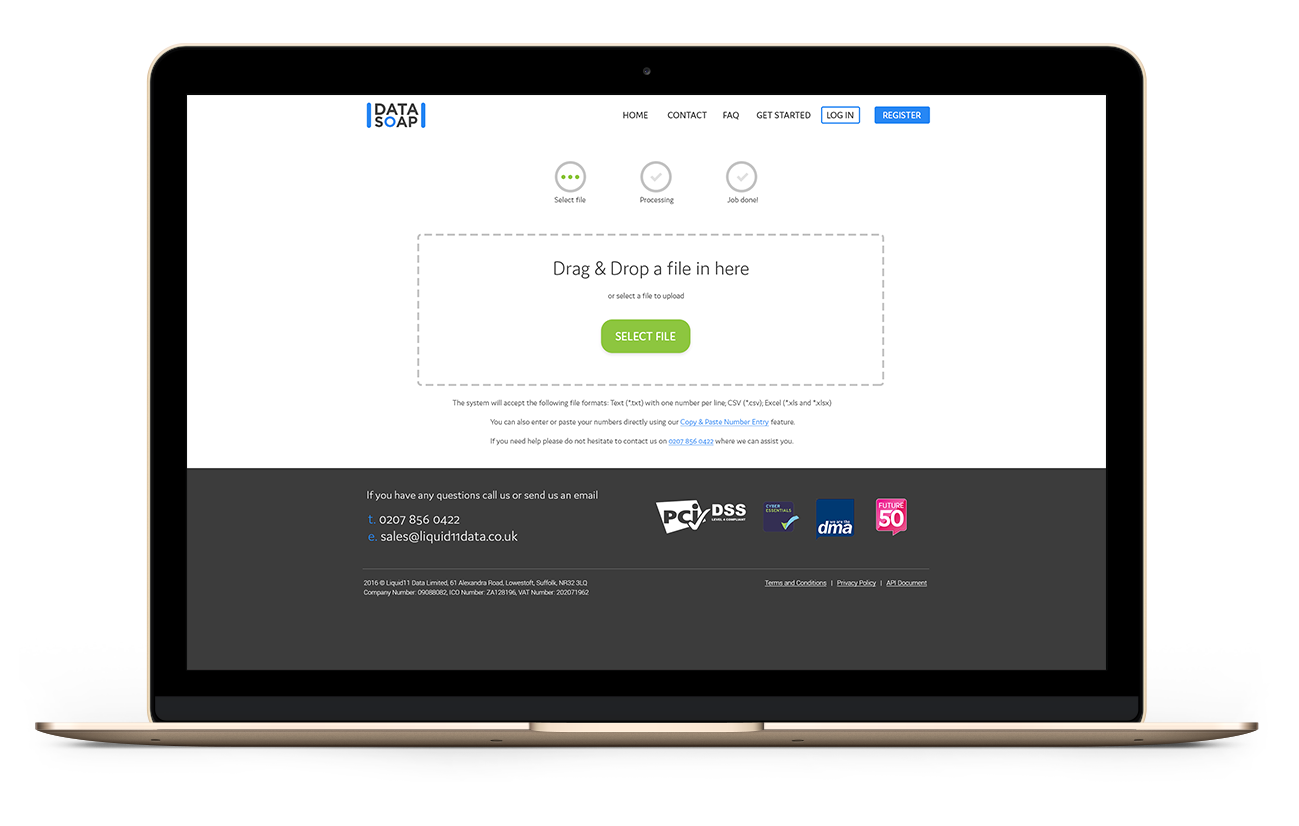 Validate your customer lists with our cutting-edge data cleansing tools

Send SMS
Send text messages easily
Move seamlessly from clean to connection with our SMS software. You can quickly & easily communicate with your customers & potential leads with single, bulk or full campaign text messages using Data Soap's new system.
Syntax Validation API
Enhanced API lookup service
Get more detailed information about a phone number with our enhanced lookup service. Save time and money whilst getting better insight into your customers.
Mobile Validation
HLR lookup UK & Worldwide
Our Mobile Validation (HLR look-up) service saves you time and money by removing fake, incorrect or dead numbers from your customer lists.
Landline Validation
Enhanced landline number validation
Our enhanced Landline Validation tool will help you identify which of your landline numbers are valid. This will help you have more conversations, improve sales and stop the collection of false data.
TPS, CTPS & DNC
UK mobiles & landlines checks
Ensure your numbers aren't on the Telephone Preference Service registers. Our TPS/CTPS & DNC service guarantees your numbers are legal to call, reducing complaints & helping you avoid hefty fines.
Mail Preference Service
Postal marketing validation
Screen your customer lists against the Mail Preference Service register, making sure you don't contact households that have opted out of postal marketing.
Email Validation
High quality email checks
Our Email Validation tool removes incorrectly formatted or undeliverable emails & highlights 'disposable' addresses that will become inactive after a short period of time.
Postal Address Validation
Mail accurate addresses
Marketing is expensive - don't waste money on mailing to inaccurate addresses. We use the Royal Mail Address File, the UK's most up-to-date address database, consisting of over 30 million UK postal addresses to ensure your campaigns never fail.
Why is it important to clean my customer lists?
Increase contact rates and improve sales with more accurate customer information
Reduce your complaints & risk, comply with ICO & GDPR regulations and avoid fines
Save staff time, company money and make your team more efficient
Our tools will help you make more money and help to protect your company's reputation
Keep staff morale high by removing dead numbers and minimising complaints
Our tools will help you make more money and help to protect your company's reputation
Sign up for a new account & try the complete
data cleaning service for £4.99!
£100 worth of data cleaning for £4.99. available once, for new customers only
Sign Up